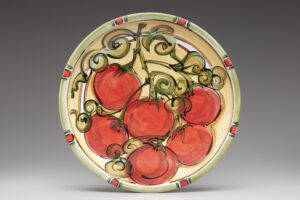 In this course, we will explore surfaces and forms that are enhanced by a decorative Maiolica surface.  We will start with making tiles and learn a variety of making techniques. They will be fired and glazed with maiolica.  Then, we will have a brushwork lesson, and learn about the brush shapes, and uses.
Participants will make pots and forms to decorate after the bisque firing.  Karin will demonstrate a variety of painting and patterning techniques. Then we'll paint, paint, paint, and glaze fire at the end. Karin shares all her recipes and tricks for making the Maiolica work well.  Historical and contemporary maiolica art will be shown to inspire us.
The Tiber Valley below Monte Castello, is rich in clay deposits, which have fostered ceramic traditions for millenia. Since the 14th c., the nearby town of Deruta remains one the world-centers of majolica technique. We will visit Deruta to see traditional artists at work, get to know their techniques, and experience their wares.  We will also tour the outstanding, Museo Regionale Della Ceramica, one of the oldest ceramic museums in Italy, with over 6,000 works in the collection! Remarkably, the museum is connected by an underground tunnel to the San Salvatore Kilns, an ancient network of kilns and ceramic facilities dating from the late 1200's. It is a fascinating and inspiring site to see and experience the rich history of the medium - the perfect setting for our workshop! On our way back to Monte Castelo, we will stop at one of the famous wineries in the Sagrantino zone and sample some of the incredible wines of the region.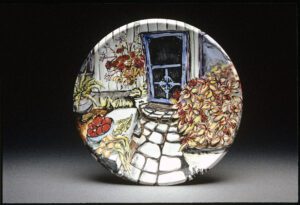 Participants in the workshop will be housed in the remarkably well-preserved Umbrian hill town of Monte Castello di Vibio.  Your workshop package is all-inclusive, providing welcome and departure services and airport transfer from the Rome Fiumicino, Leonardo Da Vinci Airport (FCO). Aboard our comfortable private bus, single occupancy accommodations with shared bath (a wide range of upgrades with private bath are available), 3 meals per day Monday-Thursday, Prosecco brunch and dinner on Saturday and Sunday (no meals are served on Friday, our excursion day. Your workshop includes one excursion per week and many additional options are available on weekends for an additional fee. Of course, 24/7 access to facilities and 24/7 bi-lingual support are provided.