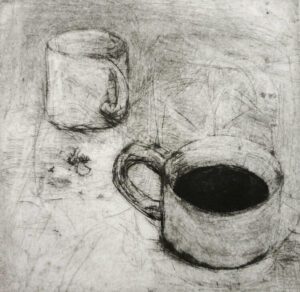 The ancient Umbrian hill town of Monte Castello di Vibio is the perfect place to discover the art of drypoint printmaking and learn to pull hand-wiped prints in this 2-week intaglio workshop with master printer Ian Jackson.
Intaglio (from the Italian 'tagliare,' meaning to carve or cut), is the term encompassing the multitude of printmaking techniques where a mark incised in a plate holds ink while the surface is wiped clean before printing. Drypoint is the most direct of these techniques, enabling artists to draw directly onto copper with sharp tools, raising ink-holding burrs that when delicately wiped and printed produce prints cherished for their uniquely soft-edged lines and velvety-rich tones.
Participants will learn the drypoint technique and the printing process and will have ample time to draw. The village offers no shortage of drawing inspiration from the dazzling Umbrian landscape to the medieval stone architecture, the still studio moments or the figures all around.
Excursions to Florence and to Deruta/Perugia will supplement the curriculum with tours of masterworks in collections of those cities. In Florence, the group will visit the print collection of the famed Uffizi Museum. Here, the new Study Center provides special access to our participants and allows them to view prints by some of the greatest masters of the medium. In Peruigia, te group will tour the collections of the National Gallery of Umbria and the Biblioteca Augusta for a special access tour of their medieval illuminated manuscripts and prints.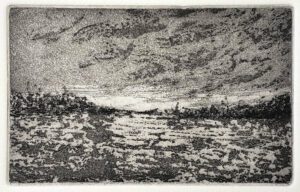 Through out their stay, participants will be housed in the remarkably well-preserved Umbrian hill town of Monte Castello di Vibio. Your workshop package is all-inclusive, providing welcome and departure services and airport transfer from the Rome Fiumicino, Leonardo Da Vinci Airport (FCO). Aboard our comfortable private bus, single occupancy accommodations with shared bath (a wide range of upgrades with private bath are available), 3 meals per day Monday-Thursday, Prosecco brunch and dinner on Saturday and Sunday (no meals are served on Friday, our excursion day. Your workshop includes one excursion per week and many additional options are available on weekends for an additional fee. Of course, 24/7 access to facilities and 24/7 bi-lingual support are provided.
The workshop is suitable for artists and printmakers of all experience levels. All materials, except paper (available for purchase at the ICA Art Supply Store) will be provided.