The study of human anatomy in Italy is a long and distinguished tradition. The extraordinary anatomical theatres in medical schools at the University of Padua and the University of Bologna bear witness to this history and were among the first of their kind in existence. Even today, we marvel at the accuracy and lifelike intensity of the 17 th c. wax anatomical models in the Specola Museum in Florence, which were made to allow medical students to observe venous, muscular, and skeletal systems without a cadaver. In this regard, the study of anatomy in Italy has profoundly impacted not only our understanding of the human body, but also the study of medicine in the western world.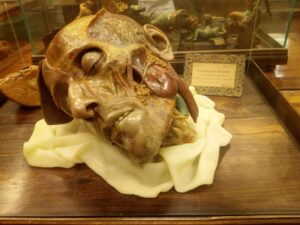 Surprisingly, this history also reveals much about the significance of the role of visual art in furthering science and medicine. In his brilliant series of lectures at the Art Students League in New York, artist, anatomist, and scholar, Robert Beverly Hale once said: "science had actually sprung from art, that it had developed in those great periods when artists had looked at nature very closely and carefully, and had tried to record exactly what they saw. That, what we explained, was what scientists have been doing ever since."
To support Hale's observation one need look no further than Leonardo's anatomical studies. These drawings are incredible not only for their accuracy and beauty as works of art, but also as a highly accurate analysis of function, of what anatomist George Bridgeman referred to as "the human machine." Leonardo is perhaps unequalled in his analysis of the form of the human body as a manifestation of the interrelationship of functioning systems. It is known, for example that Leonardo once injected the heart of an ox with hot wax, then made a glass model of the casting. He then pumped the model with water to analyze the circulation of fluids in the human heart. Incredibly, Leonardo's conclusions were not fully corroborated by cardiologists until the 1980's.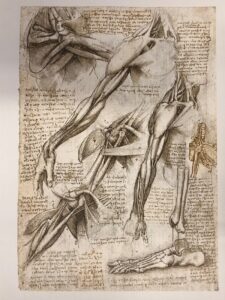 The objective of our Human Anatomy intensive is to follow in this tradition. Thus, we will not only identify anatomical structures of the human body, but we will also analyze the function of those structures and their effect on its outward form. Throughout the workshop, we will reference functional systems in understanding their manifestation in surface anatomy of the figure.
Our focus will be on the skeletal and muscular systems, with some analysis of the major arteries of the venous system. We will work from a variety of sources, including real human skeletons as well as drawing from our collection of anatomical models and plaster casts. Our medium in the course will be various drawing media in large-format sketchbooks as a means of note taking for the course.
Our approach will be in the form of lectures and hands on drawing focusing first on the skeletal system. We will draw from real human skeletons as well as anatomical models. We will explore one area of the body at a time, first in analyzing the skeletal structure of the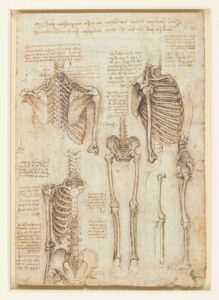 torso. Afterward, we will move on to the head, arms, and legs, as well as hands, and feet. Participants will produce life-sized drawings with charcoal on heavy paper as well as drawings in sketchbooks of details such as joint articulations.
Afterward, the course will focus on the muscular system first through lecture and note-taking then by drawing from anatomical models, plaster casts, and the live model, in the same order. However, we will in exploring the muscular system we will utilize tracing paper and colored pencil, in order to add layers of muscles over our previous skeletal drawings.
In addition to the intensive schedule of daily drawing and lecture, we will make an excursion to the famed Specola Museum in Florence where we will draw from their collection of 16 th to 18th c. wax anatomical sculptures. The incredibly lifelike flayed figures are shockingly lifelike - at once factual and at the same time, powerfully expressive. Here, the wax models will provide an overview of the skeletal and muscular systems as well as an introduction to the venous system.
Throughout the workshop, participants will be housed in the remarkably well-preserved Umbrian hill town of Monte Castello di Vibio. Your workshop package is all-inclusive, providing welcome and departure services and airport transfer from the Rome Fiumicino, Leonardo Da Vinci Airport (FCO). Aboard our comfortable private bus, single occupancy accommodations with shared bath (a wide range of upgrades with private bath are available), 3 meals per day Monday-Thursday, Prosecco brunch and dinner on Saturday and Sunday (no meals are served on Friday, our excursion day. Your workshop includes one excursion per week and many additional options are available on weekends for an additional fee. Of course, 24/7 access to facilities and 24/7 bi-lingual support are provided.