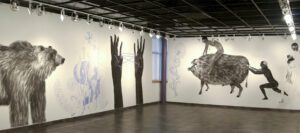 Acclaimed Painter and Illustrator Cornel Rubino will lead a 2-week workshop at the International Center for the Arts, on the creation of monumental works of visual art.
Develop an ease in working large - explore how scale alters the way we view our world by drawing directly from life to re-translate nature and rethink the human condition.
Art, like spoken language, has a vocabulary all its own. With drawing, you will be exposed to elements of thisvocabulary, which serves as the raw material for all visual information. This workshop explores and utilizes drawing to explore the figure in narrative and poetic (non- narrative) ways.
You will be drawing vertically in studio on heavy weight Rives or Fabriano paper no smaller than 7 ft. from live models, fleshy and ideal, as well as lyrical and moody objects of your choice from nature. A variety of wet and dry media will be explored and developed as well as the skills needed to tackle large scale drawings translated from your smaller sketches and ideas. You will experience drawing the figure as it empowers and informs your work, carefully raiding the mines of visual desire.
Drawing on a large scale offers a freedom that is exciting and liberating. You will have the opportunity to create and make the kind of marks that only working on a large-scale surface allows you. We will be working on heavy-duty paper so you will have the opportunity to draw wet with inks or water based paints or dry with pencils, pastels or charcoals. Or mix materials together. The sky's the limit.
You will work on at least 3-4 large drawings depending on time constraints. We will have individual and group discussions about the work in progress and develop our skills in constructive criticism, working at understanding the significance and psychological importance of line, value, form and composition in the process of image making.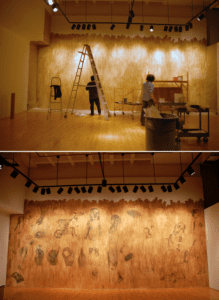 Along with trips to Florence and Perugia, we will draw on the history of Monte Castello as a gathering place for artists in a variety of mediums and scholars in disciplines across the humanities. Painters, sculptors, musicians and chefs will also be in residence at ICA, providing optional lectures or demonstrations and joining retreat participants for communal meals on the terrace. There is a strong opportunity for cross-pollination of ideas and unexpected inspiration for those who seek it.
Participants will be housed in the remarkably well-preserved Umbrian hill town of Monte Castello di Vibio. Your workshop package is all-inclusive, providing welcome and departure services and airport transfer from the Rome Fiumicino, Leonardo Da Vinci Airport (FCO). Aboard our comfortable private bus, single occupancy accommodations with shared bath (a wide range of upgrades with private bath are available), 3 meals per day Monday-Thursday, Prosecco brunch and dinner on Saturday and Sunday (no meals are served on Friday, our excursion day. Your workshop includes one excursion per week and many additional options are available on weekends for an additional fee. Of course, 24/7 access to facilities and 24/7 bi-lingual support are provided.