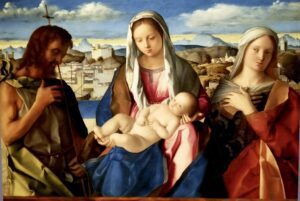 Oil painting developed in Northern Europe early in the 15th c. and Italian painters of the next generation quickly adopted the medium to their own unique vocabulary. Antonello di Messina is generally credited with the introduction of oil painting to Italy and more specifically, to Venice. Artists such as Giovanni Bellini, as well as Leonardo further expanded the expressive potential of the medium. The processes that these artists developed consequently influenced the whole history of Western Art. 
This workshop will follow their methods. Working from reproductions participants will use materials of the time, prepared by hand in a traditional way. Beginning on a wooden panel, prepared with rabbit skin glue and chalk gesso, participants will transfer their perforated drawings with charcoal and a pounce, then develop a wash drawing with genuine sepia ink, followed by an imprimatura – a colored "veil" - that establishes a tonality and a very useful neutral color. From here, oil paint ground in class will be used to develop the underpainting. Afterwards, rich glazes of transparent colors made primarily from pigments produced in in our Pigments and Paint Workshop.
Throughout the workshop, participants will be housed in the remarkably well-preserved Umbrian hill town of Monte Castello di Vibio.  Your workshop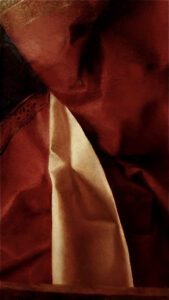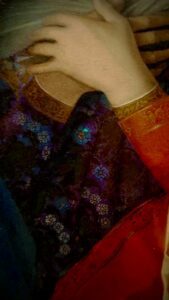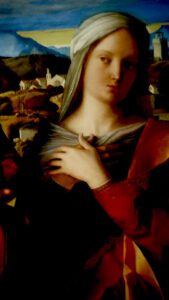 package is all-inclusive, providing welcome and departure services and airport transfer from the Rome Fiumicino,Leonardo Da Vinci Airport (FCO). Aboard our comfortable private bus, single occupancy accommodations with shared bath (a wide range of upgrades with private bath are available), 3 meals per day Monday-Thursday, Prosecco brunch and dinner on Saturday and Sunday (no meals are served on Friday, our excursion day. Your workshop includes an excursion to Perugia. Of course, throughout your stay, 24/7 access to facilities and 24/7 bi-lingual support are provided. 
Price of the workshop includes all materials needed to produce the painting described above, except brushes, which will be available for sale at ICA in Italy. While it is unlikely that the painting will be completed in the timeframe allowed by the workshop, our goal is to give participants a sufficient understanding of the Northern Renaissance process in order to complete the painting at home. As part of the course fee, participants will be issued a unique case for the painting that allows the painting itself to be folded into a carry-on luggage-sized parcel even if not fully dry.