A hands-on workshop on producing painting and drawing materials according to historical methods. The intensive, week-long workshop is ideal for painters interested in gaining greater familiarity with their materials, academics and teachers interested in curricular development, art historians, and people interested in developing a deeper understanding of traditional works.
Born in 1360, painter Cennino d'Andrea Cennini, left a remarkable legacy, beyond that of his surviving works.
A student, of a student, of Giotto, Cennino left of us a remarkable and intimate record of the life and working processes of a painter in his time. His book is called, il Libro del'Arte, simply, "The Book of Art." It provides insights into the training of the artists of his time, as well as that of the next generations of artists in Italy. Incredibly, this included some of the greatest figures in the history of Western painting: Masaccio, Fra Angelico, Leonardo, Botticelli, Michelangelo, and Raphael among others. To the reader of today, Cennini's text provides the remarkable opportunity to participate in this legacy.
On a practical level, Cennini's book is also a very useful guide to the production of pigments, paints, painting surfaces, and other materials of the medieval and Renaissance artist. In this however, it also reveals something larger than that of a recipe book. It speaks to a very special connection between artists and the materials they choose. Often, that connection resulted from artists making their materials themselves, by hand. Indeed, Cennini refers lovingly to the rare, almost spiritual beauty of, ultramarine blue to the easy, sensual qualities of a charcoal black as well as to their sometimes, tempestuous personalities of materials like, dragon's blood!
What is revealed is a unique connection to the materials of the artist, in which all elements have significance. As translator, Daniel Thompson describes, "A very choice black was, and still is, made from peach stones; and almond shells were sometimes charred to produce another sort. To the outsider all these blacks would seem very much alike; indeed, they would probably be quite indistinguishable. But a painter of the medieval kind becomes familiar with the little quirks of personality in his pigments, and is affected by small subtleties which it is hopeless to try to define, subtleties not so much of color as of working quality, how the pigment feels, how it mixes, whether it tends to settle out of a color mixture, or stays nicely in suspension, and little things like that." These "little things" can indeed have big effect to the artist who remains sensitive to the qualities of their materials, creating a bond that becomes a language of its own.          
We will use Cennini's book as a basis for our exploration of making pigments and paints. Guided by the experience of our staff, in collaboration with our long-time supplier, Kremer Pigmente, and the advantage of modern chemistry and production methods, we will embark on a historical overview of pigments used by artists throughout the ages - actually, making many pigments from raw ingredients. We will observe sometimes miraculous transformations in color, creating beautiful and luscious pigments that will last …forever. We will then turn these colored particles into a variety of paints, pastels, and charcoal. Our goal will be to produce the following materials which participants will take home with them at the end of the workshop:
20 g. Jars of pigment as follows:
3 natural iron oxide (earth colors)
3 calcined (burnt) native earths
Carbon black
3 ml. Jars of pigment as follows:
Dye colors: carmine, sap green, madder red, and indigo
Inks as follow:
Sumi ink sticks, Bistre ink, Sepia Ink, Iron gall ink, Walnut ink
Also: Quill and reed pens
50 ml tubes of oil colors as follows:
Titanium white
Yellow ochre
Red ochre
Green umber
Prussian blue
Lamp black
20 ml jar of
Watercolors in natural mussel shell, as follows:
Gamboge
Carmine
Madder Red
Ultramarine blue
Sap green
Pastels as follow:
Titanium white
Yellow ochre
Red ochre
Greenish umber
Ultramarine blue
Pastels as follow:
Titanium White
Yellow ochre
Red ochre
Greenish umber
Ultramarine blue
In doing so, we will understand the processes of levigation, grading for optimal particle size, grinding, precipitation of lake colors, and many other processes. We will also make surfaces to be used in a variety of aqueous, solvent-based, and dry applications. At the end of the workshop, an excursion to the National Gallery of Umbria in Perugia, will provide real examples from Cennini's time and later, which will illustrate both the beauty and the permanence of these materials.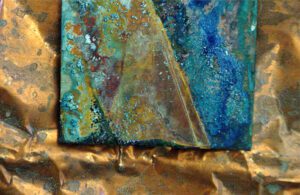 Participants will be housed in the remarkably well-preserved Umbrian hill town of Monte Castello di Vibio. Your workshop package is all-inclusive, providing welcome and departure services and airport transfer from the Rome Fiumicino, Leonardo Da Vinci Airport (FCO). Aboard our comfortable private bus, single occupancy accommodations with shared bath (a wide range of upgrades with private bath are available), 3 meals per day Monday-Thursday, Prosecco brunch and dinner on Saturday and Sunday (no meals are served on Friday, our excursion day. Your workshop includes one excursion per week and many additional options are available on weekends for an additional fee. Of course, 24/7 access to facilities and 24/7 bi-lingual support are provided.
All materials for the class and the excursion are included in the cost of the workshop.