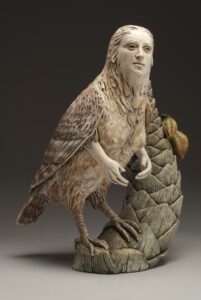 Unlock your imagination and develop coil-building and figure modeling skills in this two week human and animal hybrid ceramic sculpture workshop. Much of ancient Italian art is rich in mythological creatures and transformation that continue to speak to us, often on a visceral level. During this course, we'll delve into the stories behind some of these beings, and create contemporary interpretations and invent new amalgamations that possess compelling personal narratives.
Through live demonstrations, slide presentations, and time lapsed videos, Adrian will impart a wealth of technical information based on 40 years of working with clay. Human and animal anatomy will be covered, with special attention to heads and faces. We will create medium size pieces, approx. 18" tall; the techniques covered will be useful for building large scale sculpture in the future. This includes sectioning, internal supports and the use of a base and rod for tall sculptures. In addition, we'll make small sprig molds for surface texture and embellishment. Presentations on contemporary ceramic sculpture, as well as mythology will also be shown as time allows. Each Friday we'll venture out of the studio to nearby sites, cities and museums for a full-immersion experience.
*Participants are encouraged to take good documenting photos of the process of building their piece and the final sculpture. Arrangements can be made to have work fired after the workshop. Packing and shipping will be at participants expense.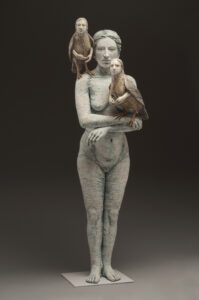 Participants will be housed in the remarkably well-preserved Umbrian hill town of Monte Castello di Vibio.  Your workshop package is all-inclusive, providing welcome and departure services and airport transfer from the Rome Fiumicino, Leonardo Da Vinci Airport (FCO). Aboard our comfortable private bus, single occupancy accommodations with shared bath (a wide range of upgrades with private bath are available), 3 meals per day Monday-Thursday, Prosecco brunch and dinner on Saturday and Sunday (no meals are served on Friday, our excursion day. Your workshop includes one excursion per week and many additional options are available on weekends for an additional fee. Of course, 24/7 access to facilities and 24/7 bi-lingual support are provided.