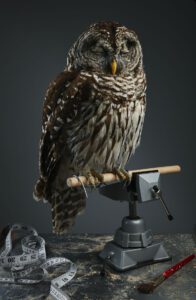 This intensive workshop will be a hands-on immersion into the art and science of taxidermy for conservation and public education. Students will create taxidermy birds with techniques used in museums, utilizing custom forms and advanced methods for accuracy of any specimen they may work on in the future.
Students will learn to skin animals, prepare skins, read reference materials, create custom forms/armatures, pose animals, assemble specimens, groom and finish the pieces for realism. We will also be teaching advanced techniques such as creating death-masks and molding & casting head forms in order to make both 3D reference and provide an incredibly accurate facial structure.
Our goal is that students leave with both finished work and the ability to practice the craft of taxidermy themselves.
Bird taxidermy is its own unique craft requiring anatomical knowledge, technical skill and an artistic sensibility. In this intensive workshop, we will be teaching students all of these fundamentals utilizing museum techniques. This class is recommended for both beginners and those with taxidermy experience looking to learn Allis Markham's museum techniques. Birds are also a perfect way to start learning taxidermy because students can go from frozen to finished all in one course. We will be working on Magpies and Crows locally collected as part of abatement / pest control; their deaths are not exclusively for this course. These species also lend themselves well to learning taxidermy and can create beautiful results with a lot of character. In fact, Allis has had the pleasure of creating and displaying both species for the Natural History Museum of Los Angeles.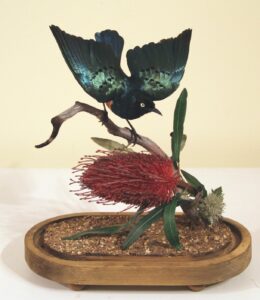 We will begin with a discussion of Avian anatomy, how to obtain legal specimens and general techniques for working on birds. Students will be learning the skills of: skinning, fleshing, wiring, wrapped body creation, mounting, posing and grooming. All supplies, tools and specimens will be provided for your class. After the end of this course, students will be able to take their own Crow or Magpie home on a base. After the course ends, every student will receive a list of documents, including a list of steps, supplies, tools and video resources all to assist in gaining the knowledge to start their own projects at home.
The ICArts team will also assist students with the logistics of getting their final pieces home safely.