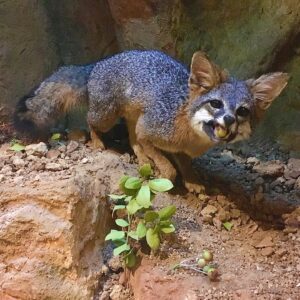 This intensive workshop will be a hands-on immersion into the art and science of taxidermy for conservation and public education. Students will create taxidermy Mammals with techniques used in museums, utilizing custom forms and advanced methods for accuracy of any specimen they may work on in the future.
Students will learn to skin animals, prepare skins, read reference materials, create custom forms/armatures, pose animals, assemble specimens, groom and finish the pieces for realism. We will also be teaching advanced techniques such as creating death-masks and molding & casting head forms in order to make both 3D reference and provide an incredibly accurate facial structure.
Our goal is that students leave with both finished work and the ability to practice the craft of taxidermy themselves.
The nature of Mammal taxidermy is far different from that of birds. Students will find this course to be more sculpting-centered with a large attention to muscle detail. This class is recommended for both beginners and those with taxidermy experience looking for a way to learn mammal taxidermy and the art of creating custom-made mammal mounts utilizing museum techniques.
In this class, we will be focusing on the taxidermy of two common North American mammals, the Grey Fox and the Striped Skunk. These were collected in the United States as part of abatement / pest control; their deaths are not exclusively for this course. While these specimens are native to the US, we have taken great care to make sure our materials are all commonly available in Europe and around the world. For instance, we will be learning the very custom technique of wrapping the bodies of the animals instead of ordering commercial forms which may not be available outside of the US, and are not nearly as accurate as creating a form for your specifi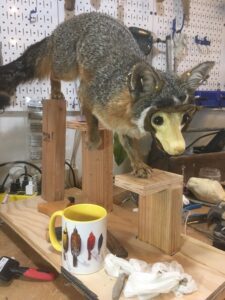 c specimen. This technique is used often for more exotic museum specimens due to the lack of commercial forms for them and the ability to create a more accurate form when custom-made.
We will begin with a discussion of each animal's anatomy, how to obtain legal specimens and general techniques for working on mammals. Students will start with tanned specimens (due to the process of tanning which requires weeks) but will be given a tutorial and documents on skinning and tanning.
In class, students will learn the skills of: measuring and wrapping forms, posing the forms for behavior and anatomical accuracy, custom-carving heads, Earliner-creation, skin fitting, creating/setting paws, sewing, facial details, and grooming/finishing work. We will also perform a demonstration on how to mold & cast for the creation death masks in order to create incredibly accurate headforms. All supplies, tools and specimens will be provided for your class. By the end of the class, students will take home their own Grey Fox or Skunk on a base. After the course ends, every student will receive a list of documents, including a list of steps, supplies, tools, formula for tanning, and video resources all to assist in gaining the knowledge to start their own projects at home.
The ICArts team will also assist students with the logistics of getting their final pieces home safely.