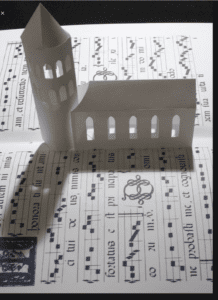 Paper is an amazing material with the potential to be structurally strong or flexible and soft, opaque or translucent, a base for drawings and paintings, a sculptural form or bound into books for writing and illustrations. In this session we will explore the potential of paper as a basic material and as a medium for artistic pursuits. This two-week session will be led by internationally known instructors Amanda Degener, founder of Cave Paper; Carol Barton of Popular Kinetics; Denise Carbone from the University of the Arts and Tom Balbo of Tom Balbo Galleries.
Students will be signing up for the complete session, with sixteen hours of instruction in each area: hand papermaking, pulp paper painting and marbling, sewn bookbindings, and designing pop-ups. The session will also include field trips to the Fabriano Paper Mill and to the city of Florence, along with several other excursion stops. In addition, Amanda will be offering optional morning Tai Chi sessions.
This is an ideal session for teachers, graphic designers, creative artists, and anyone who likes to play with paper. No prior experience is necessary; all skill levels are welcome.
Designing Pop-Ups by Carol Barton
Discover the creative magic of constructing your own pop-ups in this exciting workshop on "paper engineering." We will begin with basic cut-and-fold pop-up structures that can be used to enhance graphics for greeting cards, invitations, gallery announcements, children's picture books, and much more. From there we will explore a range of more complex glued structures which form the basis of entire scenes in contemporary pop-up books: props, floating platforms, spirals, straddles, and V-folds. You will be encouraged to invent and explore these structures to create your own artistic paper environments.
A Medley of Bookbindings by Denise Carbone
"A bookbinding has two main functions. It protects its text block against wear and tear, and, byits structure, it makes a book out of a heap of otherwise separate leaves or quires".
-KAREN LIMPER-HERZ
What happens at the spine of a book effects its structure and action. A functioning book begins with a solid sewing. This class is open to everyone interested in the rudiments of how books are put together.
We will get acquainted with the materials and tools used to get started. This Class will cover a supported sewing, adhesive based structures, and album alternatives, paying attention to how materials and composition of the binding affects the book action. Introduction to basic hand tools of the trade will be covered. These books are meant to be constructed at the bench and made in a sparsely equipped home studio. We will learn about paper grain, folding, marking up and punching signatures, sewing on and off a sewing frame and gluing up and lining the spine.
A series of handouts will be provided outlining the steps to create the models made in class.
Structures include drum leaf hybrids, sewn paper case constructions & album alternatives. All will be covered in a variant of board constructions that are suitable for the books function and flexibility. It can be a challenge to find the right combination of materials to accommodate structure. You leave the workshop with the technical foundation and structural principles for continued investigation.
Hand Papermaking by Amanda Degener
Amanda will show you how to cook, process and form strong, translucent Asian-style sheets of paper and will also introduce you to natural dyeing and surface treatments on flax papers. The color palette of Cave Papers has often been compared to the earthy Italian palette. We will work with indigo, walnut and persimmon dyes and apply gelatin as a resist. Cave Papers are special because of the crackling, layering and combined effects resulting in dark, durable papers. Asian hand papermaking does not require much equipment, so it is easy to continue on your own. You will make both kozo and abaca paper, cloud paper, stencil "water away" paper, add inclusions, and try combinations of your own. You should bring a water-resistant apron or light raincoat along with waterproof footware to wear in class, or you can buy inexpensive waterproof shoes at
the local hardware store.
You will be introduced to suminagashi (Japanese marbling) which can be done on your handmade papers or on provided sheets. Each participant also will create a portfolio and/or sample book with descriptions of both Asian and Western papers, to keep as a reference. You will take home a huge stack of your own papers and be encouraged to use your papers in the other classes. The school has paper tubes for sale in order to take your work home.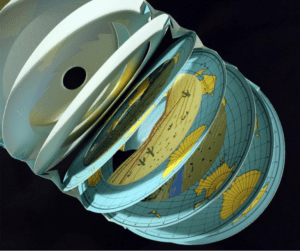 Pulp Paper Painting and Marbling by Tom Balbo
In this session we will explore hand papermaking methods, both traditional and non-traditional, to produce pulp paintings. When using pre-colored pulp as a "paint," it is best to form abase sheet of plain pulp and work on top of that. Students will use molds, deckles, and deckle boxes (basically screens and frames) in creating these base sheets out of cotton rag, abaca, and flax fibers. Then students will create their own colored paper images using finely crafted, pigmented cotton linter (short cotton-fiber pulp). Stencils, brushes, or squirt bottles can be employed in this process. Students will experiment with both spontaneous and controlled methods of production. We will also explore some experimental marbling techniques using commercial papers and some of our handmade sheets. Students will use acrylic paints for creating patterns, and more free-form designs will be achieved with the use of stencils. Experimentation will be greatly encouraged.