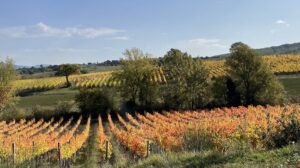 In collaboration with the Italian sommelier association - Assosommelier - and renowned connoisseur, sommelier, and master-taster, Antonio Andreani, the International Center for the Arts is proud to offer its 2023 Sommelier Certification course options at our facility in Monte Castello di Vibio, Umbria, Italy.
Italy is the world's top wine producer and thus the perfect place to enrich your enjoyment of wine. Here, you will immerse yourself in the rich history of Italian wine, experience its diversity, and celebrate its connection to some of the most amazing foods in the world! Our courses are designed for individuals all levels of experience – the only prerequisite being a passion for learning about the rich traditions and incredible varieties of Italian wine!
The program is all inclusive with accommodation provided in our beautifully preserved 14 th c., medieval hill town. We provide Welcome and Departure services at the Rome/Fiumicino, Leonardo da Vinci International (FCO) airport as well as airport transfer by private bus. Using locally sourced and artisanal ingredients, three traditional meals are lovingly prepared by our kitchen staff and chef Federico Monday through Thursday. On Fridays our private bus will transport participants on two excursions: the first to the fabulous city of Florence and the second to Orvieto, which boasts one of the most beautiful cathedrals in Italy. Saturdays and Sundays, we provide an incredible brunch with fresh baked bread and pastries, a variety of eggs, cheeses, and cured meats, as well as fresh yogurt and fruit. Of course, all accompanied by terrific, chilled Prosecco! Saturday and Sunday dinner are also grill-day's and we will enjoy savory grilled meats (including wild game), fresh vegetables, and more! All lunches and dinners are accompanied by local wine, wines from our extensive Wine List available for purchase. Our bi-lingual staff is on hand 24/7 to fill your needs.
Our approach will be both fun and informative. Paired with delicious foods from our kitchen and the spectacular views from our dining terrace - the course will provide everyone the opportunity to fully experience the richness and beauty of the Umbrian landscape as well as the excellence of its culinary and viticultural traditions. We will make good use of our central location in Italy to visit both renowned Umbrian vineyards as well as to the Chianti Classico, Montepulciano, and Brunello di Montalcino wine regions of Tuscany.
Throughout the course, our excursions will be combined with lectures and an in-depth introduction to the wines of Italy in general. We will provide tastings of many of the great Italian wines, with some interesting and surprising little-known wines as well.
All participants successfully completing the course will receive a certification of "Wine Taster" through Assosommelier. For professionals, the certification will not only reflect the technical knowledge that they have gained, but also provide the opportunity to continue to other levels of Sommelier training. For those with a general interest, the focus of the "Wine Taster" certification is ideal. participants undergo the same training as those in the "Level 1 Sommelier Course," but do not need to take the requisite exams. It is the first step for those who want in-depth knowledge and a strong base for understanding wine at a high level of quality. Course on topics such as food pairing, appropriate serving and storage conditions, and the introduction to new types of wine will be invaluable in enriching the experience of the wines and culinary traditions of Italy.
While participating in the course, those interested can also earn a Level 1 Sommelier Certification, which is available in collaboration with Assosommelier by taking the requisite exams (during the workshop) offered through the Universita di Perugia di Sapori. (The latter requires additional coursework while in Monte Castello as well as an additional fee.) Level 1 Sommelier Certification is well-suited to the needs of food service professionals who want to expand their knowledge of wine in technical ways that will provide a step-stone to full Sommelier certification and careers related to wine.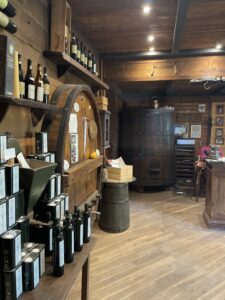 For all participants, the course will focus on:
1. Providing a general knowledge about wine: history, terminology, production, aging, etc.
– focusing on wines of Italy
2. Technical tasting skills to both evaluate and enhance the enjoyment of wine
3. An introduction to types of wines and food pairing
4. The course will also provide an introduction to Beer (particularly exploring the emerging
micro brewing culture of Italy) and Spirits, focusing on aperitivi and drinks such as
grappa.
5. Regulations governing the production, distribution, storage, and sales of wine.
Food Pairing
Utilizing our kitchen here at the International Center for the Arts facility in Monte Castello and enlisting the aid of our fantastic chef Federico, we will also explore culinary traditions of Umbria and Italy as a whole, giving us the opportunity to examine the role of wine in:
Italian Dining
Food and Wine Menu Planning
Wine and Food Evaluation Techniques
Sauces and Spices Cooking Techniques
Cheeses
Fish and Shellfish
Poultry and Game Birds
Meat and Wild Game
Soup, Salad, Vegetables, and Vegetarian Cuisine
Cross-Cultural Pairing Desserts