Sketching a Pig is a hands-on exploration of traditional butchery and charcuterie methods, flavors, and foodways of central Italy, centered around the full utilization of the animal - nose to tail!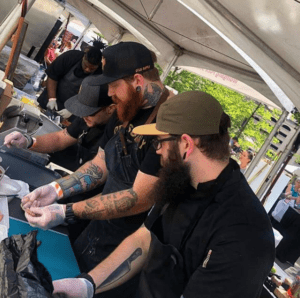 During the 10-day workshop, participants will delve into traditional processes and recipes of the region, tasting everything along the way. Group leaders Nathan Colello Gilmour and Rece Hogerheide will impart authentic stories of food, time, and place of the region of Umbria and in particular, the village of Monte Castello di Vibio – certainly with a few secrets thrown in around the cookfire.
Instruction will focus around creating a personal sketchbook (hence, "Sketching a Pig") for note taking, drawing and diagram-making, recording recipes and procedures, observations, and ideas. As a result, participants will create a "living" learning object that forms a record of the experience. For those not skilled, trained in drawing or who may not yet feel comfortable with pencil in hand, rest assured, the idea is to create a hand-made record that will have value to you as a note book and record of the experience - a kind of "cookbook of Umbrian salumi." We propose to exhibit these "cookbooks" in our Bocca al Lupo Gallery, along with samples of our production in a gallery reception before our final meal.
Participants should be ready to assist in the butchering of a thoughtfully sourced pig and wild boar as well as with many traditional preparations that come with the early spring harvest. Additionally, there will be two off-site excursions: one to a local weekly market for supplies (and the experience), and the other to the renowned Italian charcuterie capital, Norcia, where since the middle ages (and before), the legendary local butchers – the Norcino – became inseparably a part of Italian food culture (so much so, that even today, butchers in Italy are referred to by the name "Norcino" and butcher shops sometimes as "Norceria" ).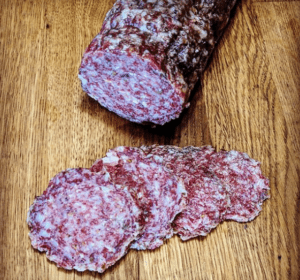 During your stay, you will be housed in the remarkably well-preserved Umbrian hill town of Monte Castello di Vibio.  Your workshop package is all-inclusive, providing welcome and departure services and airport transfer from the Rome Fiumicino, Leonardo Da Vinci Airport (FCO) aboard our comfortable private bus. Also included in the course fee are single occupancy accommodations with shared bath (a wide range of upgrades with private bath are available), 3 meals per day Monday-Thursday, Prosecco brunch and dinner on Saturday and Sunday (no meals are served on Friday, our excursion day. Your workshop includes one excursion per week and many additional options are available on weekends for an additional fee. Of course, 24/7 access to facilities and 24/7 bi-lingual support are provided.
All materials and fees for the course are included, except international airfare and meals on excursion days unless otherwise stated. Course fee also includes a high quality butcher knife, apron, and sketchbook.